Research Report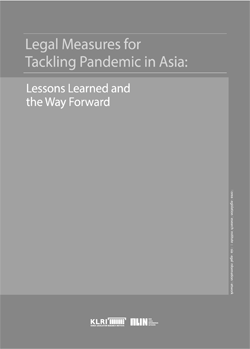 Legal Measures for Tacklinlg Pandemic in Asia: Lessons Learned and the Way Forward
Countries around the world have struggled in the fight against COVID-19 since the beginning of 2020. Contrary to what most people believed and hoped for, any return to normalcy seems to be still far from now, if not impossible to reach altogether. Juggling health and economy, Asian countries have each taken different methods and paths, almost all with legislation backing up their respective policy measures. Located in such close proximity to one another, one nation's peril as well as success evidently permeates into others.
It was in consideration of the paramount importance of cooperation that Asia Legal Information Network conducted a joint research project on legal measures against pandemic in seventeen different Asian countries. Overcoming this never-experienced threat depends upon each country designing laws and policies based on the foundational knowledge of neighboring nation's tactics and programs, so that Asia and the world may strive for survival and well-being together. 
The reports from seventeen countries share common measures implemented in similar programs and laws, although the results in controlling the pandemic may vary. It should be read and understood with caution, thus, that the differences in results by no means imply simple mishaps in the implementation of policies or programs; rather, readers should approach these differences with a keen awareness that each country's cultures and circumstances are distinct, and that the laws and policies of one country should not be transplanted into another without thorough review of its native system. 
Planning and executing this joint research project was a grand undertaking, and such accomplishment would not have been possible without the sincere cooperation of legal experts from the seventeen participating countries. Each of these seventeen scholars has presented their nation's laws and practice in accordance with a common structure provided by Korea Legislation Research Institute, and each has produced an invaluable contribution to our collective knowledge on legislation addressing pandemic in Asia. 
With these reports, it is my hope that we may pave the way for a greater mutual understanding of the battles we each face, so that Asia and the world may work tirelessly together to win the war against the pandemic, and that such experience of cooperative victory may serve as the seeds from which to cultivate the shared strength to overcome any international obstacles that we, humankind, may face in the future.